DSP AND SOFTWARE RADIO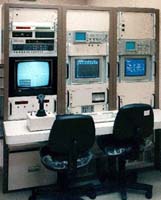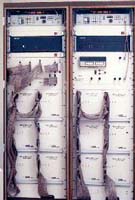 Nadovich, an expert up/downconverter designer, was one of the first engineers in the world to create a detailed design for a Software Defined Radio. He is particularly experienced in real-time DSP multiprocessing, having designed two significant multiprocessor DSP systems: one, a radar control system comprising over 15000 lines of C code executing on three Intel X86 processors, the other a Software Radio array with forty-nine TMS-320 processors in concurrent operation. More recently Nadovich has designed FPGA based packet modems, synthetic test and measurement systems, and other software radia and DSP intensive systems.

These high performance digital systems had extensive Digital Signal Processing (DSP) and Software Defined Radio (SDR) capabilities, including FIR and IIR digital filters, FFT and Wavelet transforms, decimation, interpolation, and multidimensional signal processing algorithms.


---
Publications
T. Wey and C. Nadovich, "On Lossy Memristive Behavior of Metal Conductors," in IEEE International NEWCAS Conference, 2016, vol. 2, no. 1, pp. 0-3.
C.T Nadovich, W.D. Jemison, D.J. Kosciolek, D.T. Crouse, "Forked Grating Coupler Optical Vortex Beam Interface for Silicon Photonics," Presented at The Photonics North Conference, Quebec City, CA 2016.
C. T. Nadovich, D.J Kosciolek, W.D. Jemison, and D. T. Crouse, "Simulation Of Vector Mode Grating Coupler Interfaces For Integrated Optics." Presented at COMSOL Conference, Boston, MA, 2015.
C. T. Nadovich, D.J Kosciolek, W.D. Jemison, and D. T. Crouse, "Forked grating coupler optical vortex beam interface for integrated optics", presented at the Third International Conference on Optical Angular Momentum, New York, N.Y., 2015.
D. J. Kosciolek, C. T. Nadovich, D. T. Crouse, and W.D. Jemison, "SOI Forked Grating Coupler for Integrated Optics: Fabrication Tolerances and Efficiency Improvements for Coupling into a Single Mode Fiber", presented at META'15, the 6th International Conference on Metamaterials, Photonic Crystals and Plasmonics, New York, N.Y., 2015.
C. T. Nadovich, W. D. Jemison, J. A. Stoute, and C. Spadafora, "Microwave Exposure System for In Vitro and In Vivo Studies." presented at COMSOL Conference, Boston, MA, 2014.
L. M. Coronado, C. T. Nadovich, and C. Spadafora, "Malarial hemozoin: From target to tool", Biochimica et Biophysica Acta (BBA) - General Subjects, June 2014
J. A. Nestor and C. T. Nadovich, "An FPGA-Based Wireless Network Capstone Project", Proceedings International Conference on Microelectronics Systems Education, July 2009.
C. T. Nadovich; D. Kaplan, J. Davis, and M. Montgomery, "Descriptive development system for true instrument synthesis", Autotestcon, 2007 IEEE, Sept. 2007
C.T. Nadovich, Synthetic Instruments: Concepts and Applications, Elsevier/Newnes, 2004.
C. T. Nadovich, D. R. Frey, T. Schmitthenner, D. Hess, "The Stimulus Hardware Emulator (SHE) proof of concept," IEEE Systems Readiness Technology Conference, 1999.
---
Skill-Set Key Words
3D A/D APL ATE ATML Absorption Adaptive Adaptive-Array Altium Analog Analyzer Antenna Apache Aperture Assembler AUT Biological Board Beamformer BER BSD Broadband Butterworth C C++ CAD Capacitor CASS Cellular Chirp Circuit Clearance CLR Chebyshev Commercial Compact-Range COMSOL Control Convolution CPLD CST D/A DAC Design Delay DF Dipole Dielectric DNS DSP Digital DxDesigner ECCM ECM Electromagnetics EMC Embedded EMI Feed FET FCC Fiber FIR Filter FMCW FORTH Fourier FPGA Firmware Gaussian GCC GPS Grating 68HC11 High-Power HFSS HTML HF Horn IIR IGBT Infrared ISAR ISP Impedance Internet Inverter Inductor Instrument Integral ISM IVI Java JPEG Kalman Filter Lab LabView LabWindows Laplace Laser Layout Linux Measurement Microstrip MIMO MPEG MUSIC Magnetic Mathematica Matching Matlab Metrology Microwave Millimeter-Wave Microcontroller Military Monopulse Multiphysics MySQL Nanotechnology Nanoparticle Network Neuron NTSC Numerical OAM Op-Amp Optical Optics PC104 PAL Patch PIC PCB PHP Part-15 Perl Photovoltaic Photonic Positioner Power Phase Phased-Array Pulse PWB RF Radar RCS Reed Solomon Resistor Reactance Reflection Reflector Resonator Rogers 4003 SAR Scalar Sensor Simulink SLM Smart-Antenna Software SOI Specific-Absorbtion-Rate Spread-Spectrum Stripline Surface-Mount Sonnet Spartan Super-Resolution Synthesizer Synthetic Systems TCP/IP Test TeX TMS-320 Theodolite TR-Module UART Ubuntu UHF VHF Verilog Velodrome Video VHDL Verilog Vortex VSWR WLAN Wi-Fi Waveguide X-band Xilinx Yagi XML Z-World 2G 3G 8051 6805
---
Chronological CV
(Company Name Witheld), (2012 - 2014)